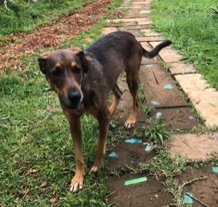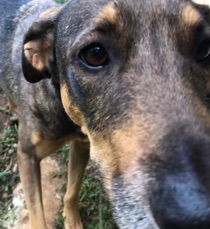 Great Alarm Dog - Friendly - Well Behaved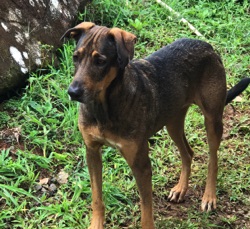 My name is Cindy.  I am about 4 years old.  I stand 21 inches tall at the shoulder and weigh about 40 lbs.   I am especially drawn to Gringos. My home was with a Gringo until he died.  Since then I have been abused and have become a little nervous and shy. My foster Gringos are nice and I work really hard for them - barking at anyone who comes near the house.
I am a great alarm dog.  I live outside and have a bed in the garage. Even if the door is open I do not go into the house, I got yelled at for going in, so I quickly learned to stay outside.  I am happy outside.  Of course, if you wanted me to live inside, I would love it. 
I love to go on walks and am leash trained, I walk on a slack leash next to the right knee of the person walking me.  Once in awhile I go ahead, but come right back.
I am looking for a forever home with a Gringo.  I will watch your yard and if anyone enters, I will bark a lot.  Otherwise,I am quiet and loyal.  Please adopt me.
Contact Chris McCall 6137-5602 or email chrismccall@me.com